A few months ago I found something rarer that Rocking Horse Poo - a copy of a film staring George Lazenby that I didn't know ever existed -1986's

Never Too Young To Die

.




The film tells the story of Lance Stargrove who discovers that his father Drew was a spy but only after he his murdered by the evil hermaphrodite Velvet Von

Ragner.



Lance teams up with his fathers colleague Danja Deering

and they set off to seek revenge.


---

---

---

Watching this movie - released in the year between Moore and Dalton's tenure as 007 - you are first of all reminded of one thing - that some 80's movies date better than others.

Having said that this is a film very much of it's time - and if you can put on hold thinking phrases like, Did we used to wear clothes like that? and Was that hairstyle ever in fashion? there are worse ways of spending an hour or two than to watch this film. That is if you like watching films that are that bad they're actually good - in an unintentional comedy kind of way.


---

What is a shame for us Bond fans is that the main plot of the film is George's character's son seeking revenge for his murdered - so therefore he is not in the film for very long. Which is a shame as his scenes are some of the best acted scenes in the entire movie.

Lazenby's scenes are some of the best acted in the entire movie! It's great to see him in spy mode and it does make you wonder what might have been if he'd not said "No" to 007 back in 1969.


---

Now rock fans out there might be shaking their head in disbelief at this article but the majority of eye-rolling moments in this film feature

Kiss

frontman

Gene Simmons

in his role as hermaphrodite Velvet Von Ragner!




As you would expect from the flamboyant rocker Simmons plays Von Ragner in an over-the-top way akin to a mustache-twirling pantomime

villain!




---

As for the rest of the cast:




John Stamos made his feature film debut in this movie. Before this he had been best known for appearing in the US soap

General Hospital

. He followed this with a string of acting roles for TV, movies in theater, including recent appearances in TV shows,

Glee, Two And A Half Men

and

Law And Order: Special Victims Unit

.


John also was married to X-Men actress Rebecca Romijn. They divorced in 2005.

Vanity aka Denise Katrina Matthews had a successfull career in the 80's as an actress and singer. She suffered from various illnesses as a result of habitual drug use and following a near death experience and a kidney transplant shunned Hollywood and became a born again Christian.



Robert Englund is best known for needing a manicure and a facial playing Freddy Kruger in the Nightmare on Elm Street film series.

---

---

Now I know that 80's B movies aren't everone's cup-of-tea. But if this article has peaked your interest in this little-known George film you'll be glad to know that, for your viewing pleasure you can view all of George's scenes from the film below:
Powered by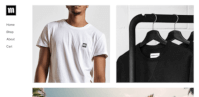 Create your own unique website with customizable templates.